Some refer to UberSELECT as "Uber BLACK but the cars don't have to be black". It's a luxurious step above UberX; but costs less than a black car. If you want to ride in style, without completely burning a hole in your pocket, this car service is for you.
Vehicles that fall under this category must be newer and otherwise have higher requirements/standards than UberX.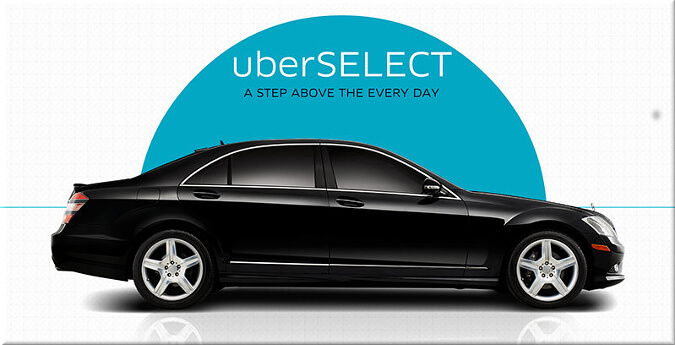 Vehicle Requirements
Passenger Limit: Must comfortably fit 4 riders (or more)
Must be a 2007* model or newer
Higher end sedans or luxury SUV's only
Have leather (or vegan leather) seats/interior
Have at least 5 functional seat belts
Drivers must be at least 21 years old
Must have A/C and heating that works
Uber SELECT Car List example
Here are some of the approved vehicles for UberSELECT to give you an idea on what to expect:
Acura RDX/MDX/TLX+
Audi A3/Q3/S4/A6/Q7+
BMW X3 & X5
BMW 5 Series & 7 Series
Cadillac CTS, Escalade, SRX+
Hyundai Genesis Sedan
Infiniti EX/FX/QX/Q50+
Lincoln Navigator
Porsche Macan/Cayenne
Mercedes-Benz C/G/CLS/GL+ Class
Tesla Model S
Buick Enclave/Regal/LaCrosse
Land Rover Discovery
Lexus GS/LX/GX/RX+
Land Rover Evoque
Kia K900
How would you rate this car service?
rated 3.2/5 by 5317 people
---
Uber is a Transportation Network Company that was started in 2009 by Garrett Camp & co-founder Ryan Graves.
It acts as an on-demand rideshare car service that allows riders from around the world to hail one of the nearby drivers - with the tap of a button through their smartphone device - for a very competitive fee. Learn more about Uber